Tell Your Friends about TELL YOUR FRIENDS!
Hey there!
My third directoral feature film, Tell Your Friends! The Concert Film! has just been released and can be founds on iTunes, Amazon and of course on DVD! (Check out the commentary track and then check out the bonus drunk commentary track.)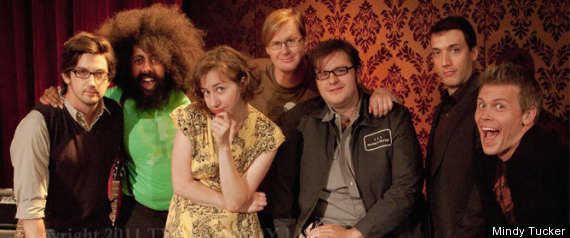 Tell Your Friends! is a concert film and documentary with performances from som eof the best acts today in the "alt" comedy scene like, Christian finnegan, Liam McEneaney, Kristen Schaal, Kurt Braunohoer, Leo Allen, Rob Paravonian, and Reggie Watts!
This is actually the first feature released that I directed that was not my own idea. I usually work on things that I conceive of, but one day Liam McEneaney cam e over to me and has this great idea about showcasing the NYC comedy scene but then he said, "Me am dumb abou t cameras things and I gotta poop." I took that to mean that he wanted me to produce and direct the feature for him. He's a very smart guy contrary to his speech pattern and it was fun working with him to help his cision come true.
Some of my favorite moments on set with the cast are when Leo Allen ate like sixteen goldfish and Kristen Schaal was like, "Am he gonna fishy fart?" and Rob Paravonian came over and hit her with a guitar.
Of course this started a ruckus so Christian Finnegan ran up to Reggie Watts screaming, "Share your blackness!" and Reggie was like, "Not now, I am teaching my cat how to DJ." At the time Kurt was either not there or invisible.
The whole thing was of course settled when Liam showed up with donuts.
Filmmaking is fun.